(Updated: January 28, 2020) Alfredo James Pacino, like every other legendary actor in cinema, makes us go fishing for the perfect words to describe his greatness. With an indisputable catalogue of iconic performances to his name, it'd be hard to argue against the fact that Al Pacino is one of the greatest American actors.
His onscreen existence, punctuated with flamboyance and spontaneity, dominates a film in such a way that makes acting seem like the sole function of cinema. From playing a young junkie in Panic in the Needle Park to an exasperated bank robber in Dog Day Afternoon, he gave us one iconic roles after another. Of course, his irresistible energy and incredible nuance gave way to hammy performances in the later stages of career.
Here are my 11 favorite Al Pacino performances. They're a must watch for all film lovers.
---
---
11. Angels In America (2003)
HBO's mini TV-series Angels In America offers one of the rare post-millennial Al Pacino performance, where he avoids playing yet another parody of himself.
Veteran filmmaker Mike Nichols' two part mini-series is based on Tony Kushner's extraordinary play. It explores sexuality and American politics during the AIDS-era. Apart from Al Pacino, the stellar cast includes Emma Thompson, Meryl Streep, Jeffrey Wright, etc.
Pacino plays attorney Ray Cohn, a power-hungry man afflicted with the AIDS. He turns Mr. Cohn at once heinous as well as touching. The monologue on law and ethics, plus the powerful scene at the doctor's office serve as testament to his legendary acting style.
---
---
10. Donnie Brasco (1997)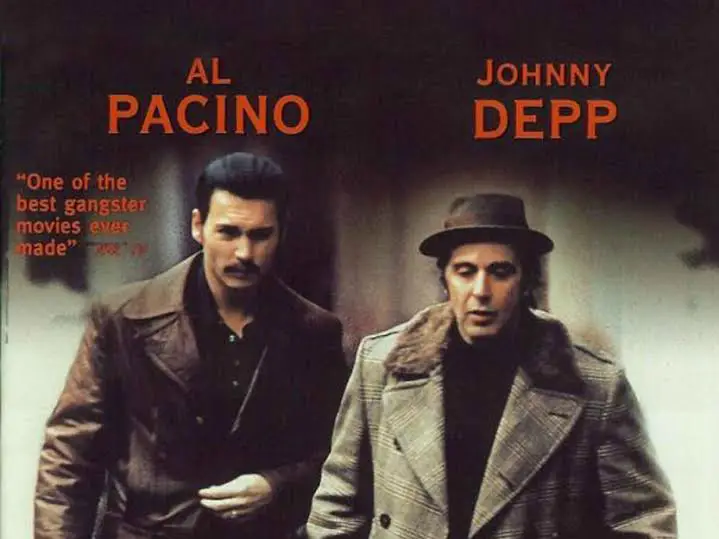 Al Pacino once again plays a criminal and gangster in Mike Newell's Donnie Brasco. But the big change here is that his character Lefty is a small-timer. He is constantly disrespected and has no hopes to rise in the mob-hierarchy.
Johnny Depp plays the protagonist, an undercover cop with existential dilemmas. Donnie Brasco is wonderful, unsentimental study of organized crime. The gangster world in the film is devoid of glamor and excitement.
In fact, Al Pacino's performance remains the face of a low-level guy's sorrowful existence. Lefty Ruggiero is the perfect antidote for Scarface's Tony Montana.
---
9. The Insider (1999)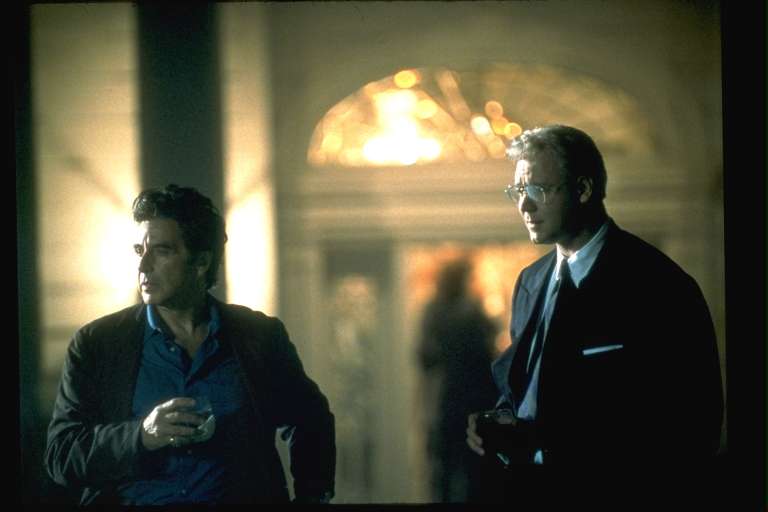 Michael Mann's The Insider tells the true story of corporate whistleblower Jeffrey Wigand (Russell Crowe). He exposed the nature of Big Tobacco with the help of CBS' 60 Minutes producer Lowell Bergman. Pacino plays Bergman with astounding subtlety, which often went missing in the later part of his career.
The greatness of the actor could be judged in one particular scene where he talks on the portable phone in the beach, restlessly pacing around, to get to the truth. Al's detective role in Mann's previous masterpiece Heat is more famous than this journalist role. But, I feel Pacino has a far more reigning presence in The Insider. It's bliss to see the actor chew over Mann's pure existentialist theme.
---
---
8. Carlito's Way (1993)

In Brian De Palma's Carlito's Way, Al Pacino plays the notorious Puerto Rican former drug kingpin. Recently released from prison, Carlito hopes to escape his former life. But fate has other plans. Like Scarface, it's also about human frailties and excessive greed. But, it approaches these themes in a more tragic manner.
Al Pacino's performance starts to burn its way into our psyche, right from the opening morbid scene. Al's impassioned, color-drained face in the first sequence is spectacular to watch. Besides providing intense emotional thrills, Pacino is great in showcasing his deep-rooted sense of romance.
---
7. Scarecrow (1973)
In this Palme d'Or winning, low-key character study, Pacino plays the role of Francis, a downtrodden drifter. Francis engages in clownish acts to mask the misery deep inside him. He is back from Navy and on his way to Detroit to meet the pregnant girlfriend he abandoned five years before. Accompanying Francis in the long journey is Max (brilliantly played by Gene Hackman), a short-tempered guy fresh out of prison. Both the great actors were said to have journeyed across California as drifters to prepare for the role. That's pretty evident in their strong screen dynamics.
Al Pacino adds small, natural details to depict Francis' societal alienation. His breakdown in the 'fountain' scene is an unforgettable moment.
---
---
6. Scarface (1983)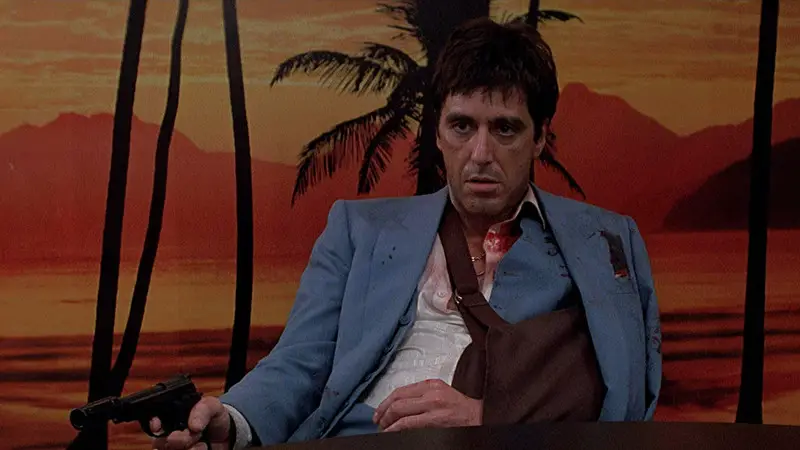 Al Pacino's career slumped in the eighties. The only exception in this decade was his role of the iconic, crazy gangster Tony Montana. After Michael Corleone, it's his second most influential role, which every aspiring actor around the world had tried to imitate. Brian De Palma's Scarface is the story of a man who wants to live large, desire large and fight till the end. Al Pacino definitely offers an over-the-top performance. Yet, the energy behind the hammy performance was so captivating.
Palma's direction and Al Pacino's screen presence were a precursor to our current senseless consumerist culture and ego-centric pop culture. It may not be good acting, but was massively entertaining.
---
Director: Martin Scorsese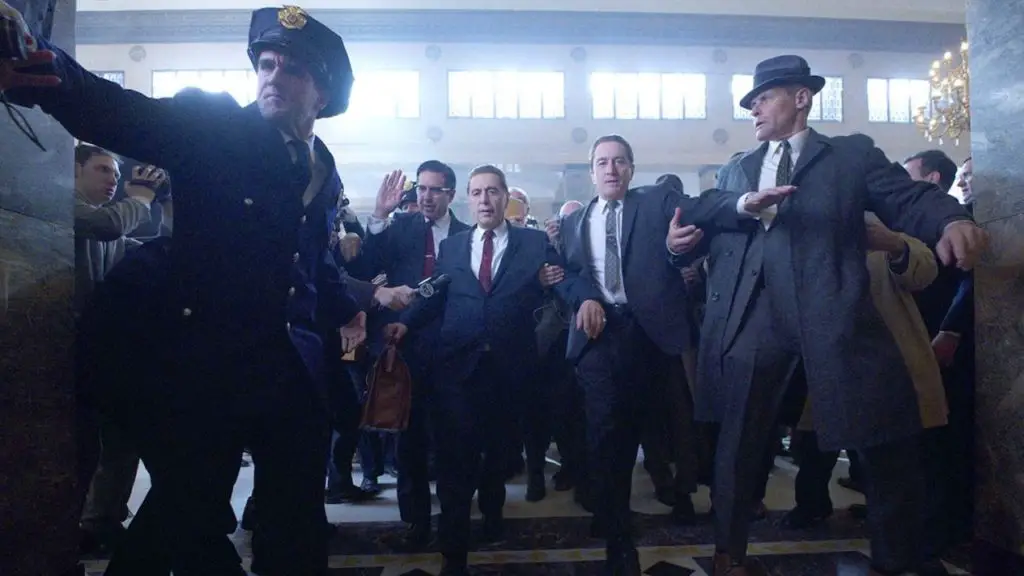 Martin Scorsese's highly anticipated Netflix original gangster epic thankfully lived up to its hype. This sweeping tale of infamous criminal figures hits on themes not usually encountered in gangster genre. Scorsese and Zaillian'scontemplative tone showcases the inviolable connection between crime and politics. They also subtly explore the burden of taking a darker path in life. Robert De Niro, Al Pacino, and Joe Pesci's fantastic performances definitely make this an unforgettable work in Scorsese's oeuvre.
---
4. Serpico (1973)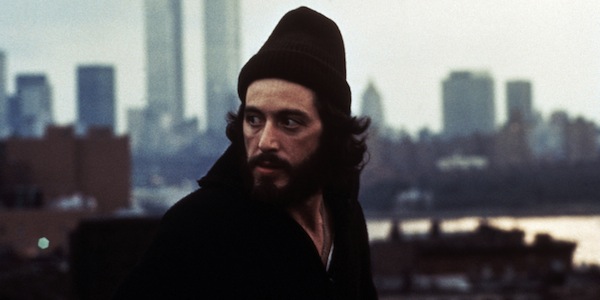 "If you prayed to inhabit a character, Sidney was the priest who listened to your prayers, helped them come true," said Al Pacino while presenting director Sidney Lumet his honorary Oscar. The truthful nature of those words could be witnessed in Al's spectacular performance as the tormented whistleblower in Serpico. Serpico was a New York cop, menaced by his corrupted police department for being honest.
Al Pacino scaled wide-range of emotional frontiers to showcase the cop's vulnerability, formidable inner strength and also the sense of isolation. Al's trademark rage could be witnessed in the scene when he locks up the loan shark. But my favorite is the final moment when he expresses inner pain in the most nuanced manner.
---
3. Dog Day Afternoon (1975)
Watching Al Pacino as Sonny Wortzik in Lumet's Dog Day Afternoon, you can piercingly feel his physical exhaustion and emotional distress. The movie was based on a 1972 true story of two New York men who set out to rob a bank on a sweltering afternoon. Pacino made a daring decision to play a homosexual character in a mainstream film. And, he doesn't assume any presumed 'traits' to play the gay role. He just splendidly portrays a nervous man, driven by passion and love. The fairly long sequence when Sonny speaks to his lover Leon is one of the film's most captivating moments. And who can forget the great improvised scene of Al yelling, 'Attica! Attica! Attica!.'
---
2. The Godfather (1972)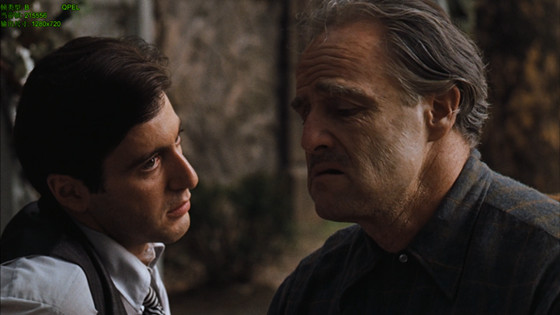 When director Francis Ford Coppola wanted Al Pacino to play the role of Michael Corleone in the seminal gangster epic The Godfather, the studio executives were appalled. They wanted a young star like Robert Redford or Jack Nicholson or Warren Beatty. Film historians have often pointed to studio execs opinion of Coppola being a little 'mad,' for casting a 'kid' aka 'that midget' to do a fiery role. But the actor who had only two movie acting credits to his list undertook the role with formidable strength. (Initially, Al too thought he wasn't right for the role). The rest is history.
---
1. The Godfather II (1974)
The Godfather II was Michael Corleone's story. It depicts how he falls from grace and realizes that he is alone in the world. The heartbreaking betrayals and menace corresponds to Michael's embrace of the dark side. The film has the earlier instance of the famous Al Pacino 'explosion' – when Michael kisses Fredo and later shouts at Kay. But the true greatness of the performance lies in the quiet, subtle moments, as the unexpressed fury depraves his moral balance. He is at once restrained and also subtly suggesting the rage and unbridled passion lying deep within. Even though I have seen the film numerous times, the final scene makes my hair stand on end.
Conclusion
Which is your favorite Pacino's performance? Tell us in the comments below. Or you can connect with us on facebook or twitter.
Have something to share with our readers? Thoughts on a film you saw recently; an obscure piece of film trivia; or a film you just finished watching and can't seem to get out of your head? Head over to our 'Submit' section for details and shoot us a mail at [email protected]