From Dazed and Confused (1993) to The Hangover (2009), here are 15 great comedy movies like Superbad. 
Directed by Greg Mottola and produced by Judd Apatow, Superbad told a wacky story of two teenage boys looking for a last huzzah before high school ends. The heartwarming friendship between Evan (Michael Cera) and Seth (Jonah Hill) was both absurdly hilarious and touching. Their antics were sometimes silly and often downright dangerous, but that did not stop audiences from loving them. Full of classic callbacks and influences from classic high school comedies from American Graffiti to Dazed and Confused, it might look like a run-of-the-mill frat party film. But once you get past the jokes and the gags, the story evolves into a touching look at teenage anxiety and the silly issues that can often feel enormous.
Superbad possessed the right amount of raunchiness and poignancy, unlike the ultra-raunchy teen sex comedies like Porky's, American Pie, and Euro Trip. Writers Seth Rogen and Evan Goldberg based the film on their own high school adventures, investing it with a sense of nostalgia, childishness, and good-hearted fun. In fact, the lead actors of the film are named after the writers Seth and Evan. Superbad also marks the feature-film debut of Emma Stone.
If you enjoyed its kooky humor and touching reminiscence, here are some movies like Superbad worth checking out!
1. Sideways (2004)
Alexander Payne's Sideways brings the spirit of classic high school bromances to a story of men in their forties still learning to navigate life. Raymond and Jack are longtime friends who take a road trip to Santa Barbara to celebrate Jack's wedding. The two men get up to shady shenanigans as Jack hunts for one last fling before married life. The film brings a touching, intellectual brand of comedy to the plot of two people going through a midlife crisis. The characters are not perfect, and not always likable. However, the story invites the audience to laugh with them at their shortcomings. Through the mishaps in the film, the narrative invites us to look at growing up as a life-long process, and not a stage.
Boasting stellar performances by Paul Giamatti and Thomas Haden Church, and a subtle, understated comedic touch, the film was widely praised. It earned six nominations at the 77th Academy Awards, including Best Picture. 
2. After Hours (1985)
Nobody paints a more vibrant picture of New York City than Martin Scorsese. His cult classic black comedy, After Hours, follows Paul Hackett as he returns home one night from the city's SoHo district. Late-night robberies, strange artists, meet-cutes and a plethora of misunderstandings create an aura of chaos in the story. Scorsese's previous works had often dealt with the darker and grittier side of New York, using violence to heighten a sense of cinematic realism. Here, he trades his trademark touch for a state of heightened surrealism.The fugue state that Paul experiences as he goes through the motions, spending a night getting in and out of wild situations provides a great canvas for existential rumination.
Finding comedy in the absurd and vice versa, After Hours will take you on a wild ride. Bold and rife with dark comedy, it is Scorsese's love letter to all the idiosyncrasies of his beloved city. 
3. American Graffiti (1973)
A coming-of-age-story told through a series of vivid vignettes, American Graffiti captures a moment in time in the '60s, fueled by counterculture and rock n' roll. It follows a group of four friends, Steve, John, Curt and Terry, over the course of  the last evening of their summer vacation. Directed by George Lucas, the film emerged out of a bet between him and Francis Ford Coppola, who challenged him to write a film that would appeal to younger audiences.
The nostalgia for teen years finds a great medium in the film, which itself looks back at a simpler time. The story contains autobiographical elements from Lucas' own life and his time as a young adult in Modesto. Focusing on iconic motifs in American culture like vintage cars and the early beginnings of disco and rock, the film narrates a story about universal anxieties such as growing up and leaving one's friends behind.
4. Ferris Bueller's Day Off (1986)
One of the most iconic films of the '80s, John Hughes' Ferris Bueller's Day Off revolves around the attempts of the titular teen protagonist to skip school for the day. Wisecracking Ferris is determined to have a day off from school, regardless of what anyone says. His zany escapades draw the whole school into a series of misadventures. Ferris' best friend Cameron and girlfriend Sloane also accompany him in his uninhibited revelry.
John Hughes employs his trademark paeans of adolescence and growing up, seen in other films like The Breakfast Club. He wanted to make a film that would utilize classic Chicago landmarks and capture the city. He has said, "I really wanted to capture as much of Chicago as I could. Not just in the architecture and landscape, but the spirit." The fourth wall breaks, Ferris's lovable antics, and his crazy ideas make this an adventure you will not want to miss. 
5. Dazed and Confused (1993)
A lot of Richard Linklater's work has to do with the element of time, and people moving ahead in their life. Coming-of-age and having one last adventure is the emotional center of Dazed and Confused. Linklater brings a decidedly indie aesthetic to an otherwise familiar story of high schoolers on the last day of school. Focusing on the hazing practices of a batch of seniors who torment the incoming freshmen, the film poses satirical questions about young people doing the things they do.
Notably, the film features an ensemble cast of screen giants like Ben Affleck, Matthew McConaughey and Milla Jovovich. Since its release, the film has gained critical approval and a cult following. The film is not only a fun watch, but also offers a catalog of rock n' roll music. In fact, the title derives from a Jake Holmes song of the same name, recorded by Led Zeppelin.
6. The Hangover (2009)
The early 2000s were a good time for raunchy comedy in general, but The Hangover stands out from the rest. One of the most iconic road trip comedies in recent times, it revolves around a group of four friends, Phil, Stu, Alan, and Doug. Chaos ensues when they go to Las Vegas to celebrate Doug's wedding and he goes missing. Director Todd Phillips is something of a master when it comes to raunchy comedies, having directed acclaimed features like Road Trip, Old School and Starsky and Hutch.
For The Hangover, he wanted to rely on wild, out-of-the-box situations to create humor for the plot, instead of relying on actors to fire off funny one-liners. The film was inspired by an equally outlandish story from one of its producers. The impact of the film has been such that it spawned two sequels and Vegas' enduring reputation as the ultimate guys' getaway. Truly, The Hangover is an ode to comedy bromances from simpler times.
7. Go (1999)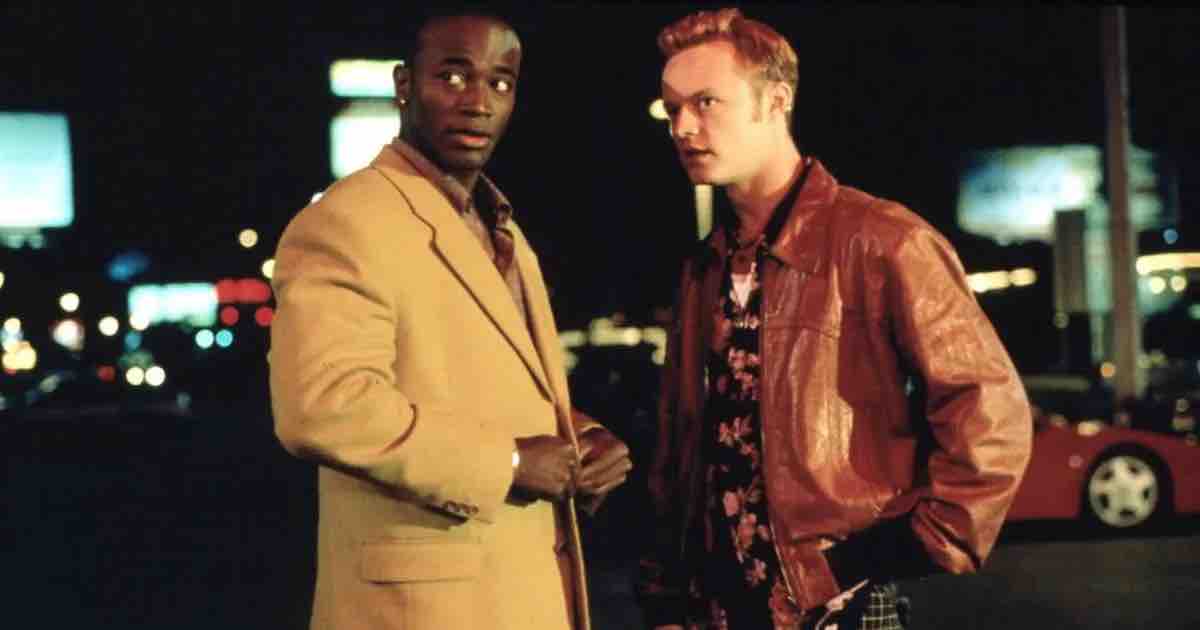 Told through three intertwined stories, Doug Liman's Go revolves around the lives of Ronna, Simon, and a drug dealing couple Zack and Adam. Accidents and misunderstandings are aplenty as the characters double cross each other and cause trouble for themselves. The use of petty violence and interconnected stories told in chapters might remind you of Tarantino's Pulp Fiction; infact, the film was categorized as trying to emulate the former's brand of humor by several critics.
The dream-like style of filming, with rushed sequences, feverish action and shady drug deals are accentuated by grounded characters. Every single persona is well written and never over-the-top, adding to the film's style of a well-thought out, irreverent comedy. The off-hand use of violence, and the gradual motif of stories changing perspective according to the teller is notable. It keeps the film fast-paced, and allows the viewer to not take any of the events too seriously.
8. Booksmart (2019)
Most comedies centering around high school generally espouse the frustrating "boys will be boys" philosophy. Teenage girls are rarely afforded the chance to let loose. Booksmart seeks to change that. Olivia Wilde's directorial debut revolves around two friends, Amy and Molly, who set out to shed their bookish reputation and let loose on their last day as seniors. The film does a notable job of sidestepping the trope of cliches. Characters are not grouped into stale tropes like mean girls, nerds and jocks.
The story fleshes out characters with their own motivations and desires, creating a sense of empathy and camaraderie. A series of one harebrained scheme after another, it is as campy and fun as only high schoolers can be. With cameos from the likes of comic film veterans Will Ferrell and Jason Sudeikis, Booksmart is a Gen Z update to the tradition of old school comedies, where no idea is too wild. 
9. Blue Spring (2001)
Based on a manga of the same name, Toshiaki Toyoda's Blue Spring revolves around a group of boys who study at a decrepit boy's school in Tokyo. Aware of their limited options and career prospects, they are dejected and apathetic, partaking in activities such as an illegal school gang. The film masterfully portrays the anxiety and immaturity that plagues people who are on the cusp of change. The story focuses on the feelings of inadequacy and pessimism, taking a look at the dark side of adulthood. The anxiety of growing up and stepping into the real world can be crippling, and the story never shies away from that. In doing so, it presents a complex and nuanced picture of people in their teen years.
The title, which translates to Aoi Haru in Japanese, is intended to be ironic — it can be read as "immature years" or "inexperienced years" but also denotes "fresh start." 
10. Güeros (2014)
The Mexican coming-of-age drama Güeros offers a poignant look at the inner life of a young troublemaker, and his quest to meet his favorite musician. When Tomas' mother is fed up with his shenanigans, she sends him to live with his older brother. Against a backdrop of school strikes  and poor urban living, Tomas and his brother set out to meet rock n' roll legend Epigmenio Cruz. Director Alonso Ruizpalacios was highly influenced by the Universidad Nacional Autónoma de México (UNAM) students' revolt against the university. He uses the backdrop of student revolution to tell a story that is both wide-reaching and personal in its scope. On one hand, it captures the history of the revolution; the student revolution is both the catalyst and the backdrop of the events of the story. On the other hand, it paints a nuanced picture of the inherent rebelliousness of youth. In his work, the personal becomes political.
11. Animal House (1978)
Made by the National Lampoon Magazine, Animal House follows the efforts of the Delta Tau Chi fraternity to rebel against the Dean of Faber College. The film was not only widely popular and a huge box-office hit, but also served as a major inspiration to many comedy filmmakers since. It arguably inspired the onslaught of raunchy comedies, with a focus on young adults getting into tight spots and causing mayhem in general.
According to film historian Leonard Maltin, "Animal House opened the door to a new brand of widely popular comedy films and pushed the envelope in terms of what was then considered good taste." By redefining what counted as good comedy, it also ushered in a sense of something akin to an anti-establishment ethos. With comedy heavyweights like John Belushi, Peter Riegert and Tim Matheson, we are not kidding when we say this film is the definitive blueprint for disruptive comedy.
12. Withnail and I (1978)
Written and directed by Bruce Robinson, Withnail and I captures a weekend in the life of Withnail and Marwood, two struggling actors living in a dingy London flat. When they retreat to the Lake district for a holiday, their relationship comes to a head. Robinson was inspired by his own experiences while living in London during the late '60s. One of Britain's most beloved cult classics, the film is powered by an exceptional performance by Richard E Grant as Withnail.
Relentlessly absurd and nearly Shakespearean in its scope of existential angst, the story oscillates between hilarity and downright frustration as the characters grow increasingly despondent. However, the film never becomes a sloppy story about drunkard actors. Rather, it takes its source material and uses it to comment on the various facets of British-ness in a moment in time defined by drugs, counter-culture and the belief that it was the best of times.
13. Fast Times at Ridgemont High (1982)
The notable teen sex comedy Fast Times at Ridgemont High was made by debutant filmmaker-screenwriter Amy Heckerling and Cameron Crowe. The film featured young actors like Sean Penn, Forest Whitaker, and Nicolas Cage – all three who would later go on to win Oscars in their respective acting careers. Besides, the film provided the breakthrough role for the super-talented actress Jennifer Jason Leigh. Crowe's script was based on research he did for Rolling Stone Magazine. Subsequently, he enjoyed a wonderful filmmaking career, making acclaimed films like Jerry Maguire and Almost Famous.
Fast Times at Ridgemont High, which features all these budding talents, simply follows the misadventures of high school students growing up in Southern California, whose lives revolve around like sex, drugs, and rock n roll. Similar to American Graffiti, the narrative doesn't have a clear-cut structure. Moreover, Heckerling's film is light-hearted and benign unlike most of the modern campus comedies which are excessively crude and raunchy.
14. Napoleon Dynamite (2004)
The titular character in Jared Hess' Napoleon Dynamite is a lanky, quirky, and bespectacled geek. Napoleon lives with his crazy grandmother and a computer-addicted older brother who cruises chat rooms to speak with girls. When the grandmother is hospitalized and their goofball uncle moves in, things get complicated for Napoleon. To top it all, he has to deal with the school election. There's not much to the plot apart from this. However, Napoleon Dynamite comes across as an entertaining character study of an idiosyncratic individual.
Hess' film is about white and ordinary teenagers, twentysomethings, who are all social outcasts in their small community. Instead of mocking or laughing at them and their small-town aspirations, Hess gently observes the band of oddball characters.  His compositions and flawed characters remind us of Wes Anderson movies. Napoleon Dynamite was made on a shoestring budget. But it was a huge success and became part of American pop culture.
15. Adventureland (2009)
Greg Mottola made this restrained coming-of-age drama immediately after the critical and commercial success of Superbad. Unfortunately, Adventureland was wrongly marketed as a wacky comedy, whereas in truth it was a sweet and tender coming-of-age drama. Hence, it was a commercial failure and received mixed reviews. Anchored by the charming low-key performances by Jesse Eisenberg and Kristen Stewart, Adventureland is set in the summer of 1987. The narrative revolves around freshly graduated James Brennan, who is all set to embark on a trip to Europe.
However, the family's economic reality crashes James' plans. In order to pay for the apartment rent and his future studies, James takes a minimum-wage job at a local amusement park. There he meets the rebellious Emily, whose family life is deeply troubled. Adventureland is partly based on Mottola's own student days in the late 1980s. There's no grand adventure in the narrative. But it beautifully showcases the adventure of growing up and falling in love.
Conclusion
Here we are, then! These are our movie recommendations if you like the quirkiness of Superbad. Through tragicomedy, ruminations, or just weird adventures, these films explore friendship, growing up, and adulthood through a new lens. Coming-of-age is not just a stage to be reached in these narratives, but rather a conscious becoming, a constant process. With grounded stories and lovable antics, they capture the good and the bad sides of growing up. If you're done with these films, you might want to check out Sixteen Candles, The Breakfast Club, Wet Hot American Summer, Accepted, Easy A, Nick And Norah's Infinite Playlist, Pineapple Express, and This is the End. 
Additional writing by Arun Kumar
Prachurya Das
An avid reader and a life-long lover of blue skies, I like to spend my time with obscure poetry and dissecting films. Currently besotted with Maupassant, art history and all things Nolan, you can find me spacing out to Queen while I look for new things to obsess with.